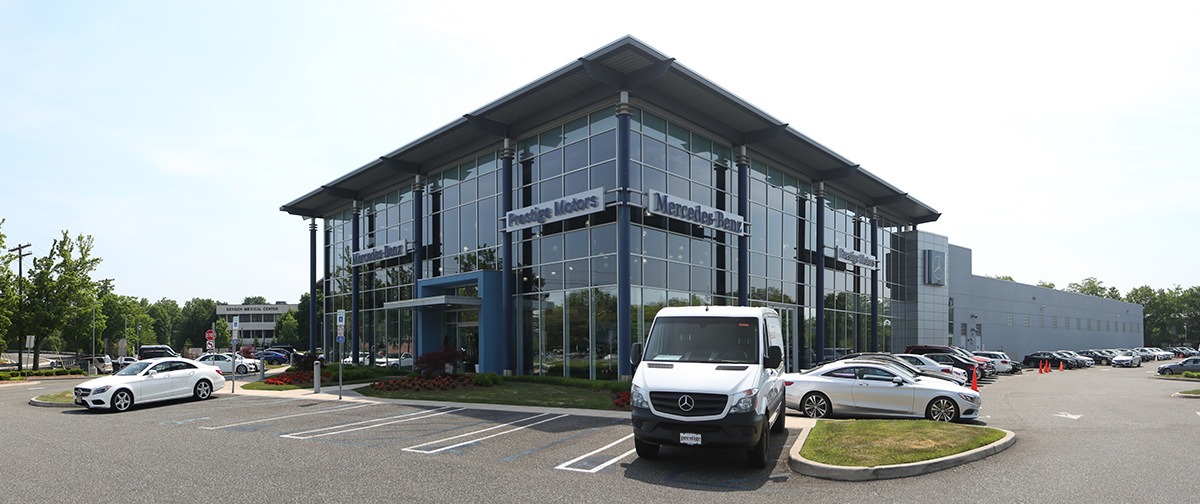 Welcome to Prestige Motors
Your Paramus, NJ authorized Mercedes-Benz dealer.
Prestige Motors in Paramus, New Jersey, is one of the premier Mercedes dealerships in the country, providing customers with a wide variety of luxury vehicles, as well as outstanding service and financing. As one of the largest Mercedes dealersin the country, we understand what it means to deliver a true Mercedes experience. Our Mercedes-Benz dealership has been serving the tri-state area for over 45 years, so we understand the ins and outs of what you need. Contact us today and discover for yourself what an outstanding car-shopping experience should feel like.

At Prestige Motors, we pride ourselves on delivering award-winning service and pristine Mercedes-Benz models. We know that if there is one thing that drives us, it is the people we serve. Providing our clients with a painless car-shopping experience through our top-notch staff is a key to our success. With our expert and knowledgeable Mercedes-Benz staff, Prestige Motors not only meets customer expectations but soars above and beyond them.

If you enjoy the finer things in life, rest assured that we will provide you with a total car experience that is up to your standards. When you're looking for Mercedes dealers inNJ, remember that Prestige Motors provides a high level of excellence in everything we do.

Perhaps you're searching for a quality pre-owned Mercedes-Benz; well, look no further than Prestige Motors. With our extensive inventory, we're a Mercedes dealerthat can find you the perfect vehicle to fit your lifestyle and budget, no matter what the requirements. Whether you are looking for the increasingly popular Mercedes C-Class or desire something that has a little more power and luxury like the Mercedes S-Class, we have the staff and the knowledge to find your perfect Mercedes. We even have great Mercedes-Benz lease offers to fit any budget.

Prestige Motors is not just your local Mercedes-Benz dealer. We also have an excellent service department to provide our customers with all of the assistance they may require down the road. We use only genuine Mercedes parts for any necessary maintenance or repairs. With several  different Mercedes-Benz finance options available, Prestige Motors is able to help every customer find a way to own the Mercedes-Benz of their dreams.

We are your Mercedes-Benz dealership, here to serve you. With Prestige Motors and Mercedes-Benz, you can expect to continue living and driving at a higher standard. Contact us today at (844) 775-4261.

---
Welcome to the Prestige Family of Fine Cars
At Prestige, we strive to make every customer a customer for life. Our New Jersey dealerships have been serving the Tri-State area for over 45 years. Our promise is to keep delivering the same award winning service and value that our community has come to expect from all of our dealerships through the years. 

Learn more at driveprestige.com.